Golf Course Re-Opens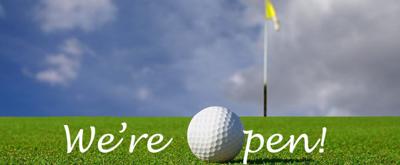 Following the recent Government Announcement, we will be re-opening for 9 hole golf on Wednesday 13th May 2020. Play will be restricted to 2 balls only, and strict observance of social distancing guidelines must be adhered to. Tee times must be booked in advance (there will be no facility to simply 'roll up' and play), and all payments should be contactless. Tee times are reserved for Members only before 10am. Clubhouse facilities will remain closed until further notice. Please ensure you have read the clubs Safe Play Guidelines before Booking
Coronavirus Safe Play Guidelines Upon Resumption of Play
Social distancing measures will remain in force i.e. stay 2m apart at all times
The Clubhouse (incl. changing rooms) and catering facilities will remain closed until further notice.
Golf will only be played in 2 balls (except family groups who all live in same household)
Handling of flags, scorecards, ball washers, stray golf balls etc will not be permitted.
All golfers must book a Tee Time. There will be no facility for simply rolling up!
Tee times will be 10 mins apart
Tee times before 10am are reserved for Members Only
Members who are able to play midweek should do so, allowing those still working to have priority at weekends
Players are restricted to 9 holes per round and one round per day
Players should arrive no sooner than 20 minutes before tee time, and should depart the premises 10 minutes after finishing the round
The Pro Shop will operate a 'One In, One Out' policy
All payments should be contactless
Players should access the 1st Tee from the right. The gate to the left is reserved for those leaving the course
Absolutely no starting from 5th Tee
The practice putting green will be restricted to the next 2 ball waiting to play only
Hole Cups (liner) will remain upturned
Players are encouraged to play 'Gimme's' for Putts within 12 inches
Rakes are removed from course. Players are encouraged to smooth sand with club or foot.